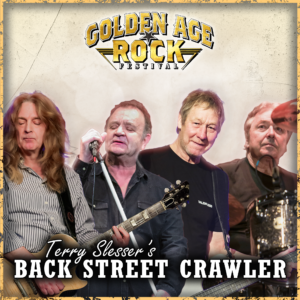 1968. Free has the bluesy rock in his blood and is crazy about seminal hard rock. Paul Rodgers already is a kind of ultimate singer. The rhythm section (Kirke-Fraser) challenges the one from Cream, as for Paul Kossoff, the guitar player, he fights with blunted foils with Beck, Page, Clapton and especially Peter Green, the great Mac guitarist.
After a revamped Free in Bad Co, Paul Kossoff prefers to sail solo but soon comes back in 1975 with a band called Back Street Crawler and finds the good complements with in particular Terry Slesser, a frontman to make your hairs ruffling.
Unfortunately, this case goes wrong despite two premium quality bluesy rock albums: The Band plays On and 2nd Street, the most successful, produced by the famous Glyn Johns (Led Zep, The Stones, Eagles, Clapton…). While on a working out well tour for BSC in April 1976 with AC/DC in support, the Koss fell dead (victim of his addictions) on a Los Angeles-New York flight. End of the story !
Now, what a surprise to see this BSC again with Terry Slesser in 2023. A new album (Rome In A Day) to be released this year and the best skilled workers in English rock: John Buckton (guitar-the reincarnation of the Koss!), Rhino Edwards (bass-Status Quo, Dexys Midnight Runners) Clive Edwards (drums-UFO, Pat Travers, Wild Horses) and Mark Taylor (Keyboards-Simple Minds, The Alarm, Elton John) should convince the most skeptical. "We are older now but the fire still burns inside us like the good old days" unfolds a Terry Slesser, a carnivorous smile and a knife between his teeth.
That bodes well…