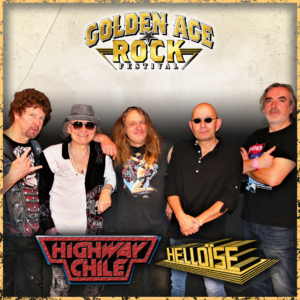 Two bands under one banner! Pretty original in a world where bands usually split and share their members into two rival bands! Comical and finally clever for the setlist and in terms of marketing.
Flashback: the 80s are coming and the European hard (continental!) shows its enormous progress and its appetence for the English speaking world (ultradominant). The greedy Batavians (totaalvoetbal!) don't want to make wallflowers.
Vengeance and Picture will be from the same cloth as Priest. Vandenberg glances at melodies and the USA.
Highway Chile, brave Rotterdammers, will not suffer from comparisons with Def Leppard after a first opus in 1983: Storybook Heroes. But Ben Blaauw (the guitar hero) and Ernst van Ee (the drumsbanger) frustrated by too many things (a limited singer for example) quickly choose the Helloïse adventure with the great singer Stan Verbraak.
After Cosmogony (1985) and Polarity (1986), any doubt is no longer permitted: Helloïse becomes a jewel in the crown of melodic hard rock with a US trends but with a very European sound.
The presence of this/these too underestimated group(s) is a godsend. This Highway Chile / Helloïse could be the huge surprise of our 3rd GARF.