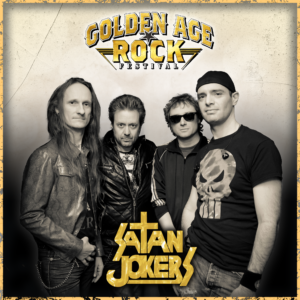 French rock? It's like English wine, it exists… The good John Lennon didn't live long enough to hear the Frenchies band that could have contradicted his witticism. Yes, Satan Jokers was different: more original, more brilliant than many others and above all very jealous (the privilege of the best!).
Its story begins at the end of the seventies with Renaud Hantson, a crazy drumming excellence award from the great Phil Collins and great admirer of Michel Berger. His Satan Jokers took shape in 1981 then, after a first part of Trust in 82 at the Rose Bonbon where the youngsters killed the father, it was the start of a series of misunderstandings and harmful relationships with everyone. Yet "Les fils du métal» (83) and «Trop fou pour toi" (84) are above the lot with a frank, syncopated and technical hard.
Would Satan Jokers be a compromise between Magma and Judas Priest? The third opus – a six-track mini album – is perhaps his Prix de Rome. It is his peak of inspiration and a work of inestimable richness.
Considered the French Glenn Hughes (an instrumentalist with a voice of solid gold), Renaud Hantson gradually unleashes his Satan Jokers for Starmania (between 1988 and 1990 in the role of Ziggy) and for a pop/rock solo career that does not meet more his audience.
In perpetual fight against his demons, Renaud Hantson continues his merry way (Furious Zoo music school…) then he could not resist a last show of Satan Jokers (group stopped for several years) at our Golden Age, reputed for its attraction to bands that have disappeared or never been released. Too crazy for you?