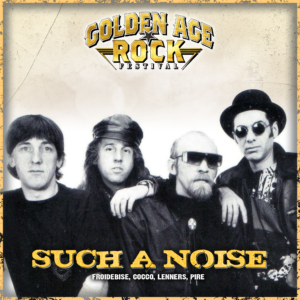 Rudy Lenners, drummer ex-Scorpions and SteeLover, Jean-Pierre Froidebise, bluesy renowned guitarist, Alain Pire, guitarist/singer – expert in the English psychedelic music, and Jean-Pierre Cocco, singer/bass player with a Latin feeling, founded Such A Noise in 1989.
Veterans of the Liege rock scene, this quartet runs at the top on all the stages of Wallonia with their bluesy rock on fire perfectly mastered and with surgical precision.
Two albums (1992 and 1994) are well rated in the medias (and relayed by Radio 21, ancestor of Classic 21) but S.A.N. loves the job and it is on the stages that he shows his quintessence and his great science of music that never ceases to rise from its ashes in times that are less and less favourable.
Such A Noise toured with Uli Jon Roth for a tribute to the great Hendrix in 1991 and even opened for Deep Purple at Forest National in 1993.
The golden quartet hasn't existed for quite a few years but as the majority of his stakeholders have already played at GARF, they have decided to offer us a final concert in Proust's Madeleine mode. Spread the word…