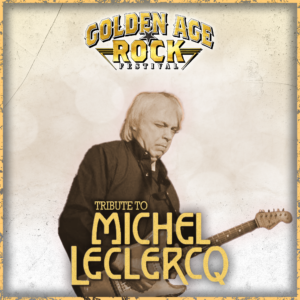 Michel Leclercq was a great guitarist! Too unrecognized. With a strong character. Has heightened sensitivity. His knowledge of music was abysmal. His taste ? very safe… In addition to this range of qualities, Michel was a pedagogical and passionate teacher. Dozens of Liège guitarists owe him a lot.
Beyond the panegyric, groups or rather one: Danger. Formed at the turn of the 70s/80s, this "hard" academy from Liège could compete with many groups of the time. British upbringing and US sound were the hallmarks of this unique LP that was much better packaged than Irish Coffee, Jenghiz Khan or Kleptomania. A big fan of Wes Montgomery, Peter Green, Jeff Beck, Eddie Van Halen and later a fervent follower of Robben Ford, Michel sailed towards more jazz and more blues horizons with always a particular appetite for the Californian sound.
After The Waiting was his last band and his final album. He was to perform at our GARF 2020. The Covid crisis wanted it otherwise before our Michel left without too much warning to meet the stars… His friends will pay him a vibrant and deserved tribute. Around Julian, his son. His pride.