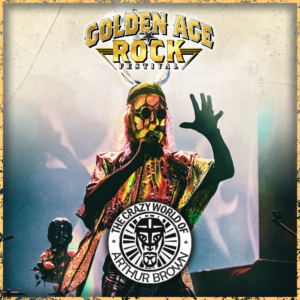 To claim that Arthur Brown is at the center of everything is not an exaggeration. Psychedelic rock, seminal hard rock, theatrical rock (an influence for Alice Cooper), crazy and protest rock and other pleasures, Arthur makes it his daily life and his business from 1967 in the aromas of a swinging and bubbling London. 1968 is his year. The time for signing for his album ("The Crazy World Of Arthur Brown") with Vincent Crane (pre-Atomic Rooster), Carl Palmer (pre-ELP) as well as Kit Lambert and Pete Townshend of The Who waiting in ambush.
Arthur Brown especially lays the single Fire, haunting refrains, which will give ideas to hard rockers and will become a psyche anthem. This signature song of the English shouter from the north of England is No. 1 in the British charts and No. 2 in the USA. After a riotous life in the communities of Notting Hill (a hippie district in central London) and unforgettable concerts at the mythical UFO Club on Tottenham Court Road, Brown emerged from the hubbub and stardom despite Kingdom Come (a band not finding his audience) and the role of a priest in The Who's 'Tommy'.
Arthur, the man with the fire helmet, is reborn from his ashes at the turn of the millennium. Twenty good springs later, the always very sprightly Arthur Brown serves us a particularly bluesy Long Long Road, just psychedelic but loud-mouthed, incredibly vicious.
A vintage album that has the audacity to drive drunk without shame: "the desire to always create new approaches and cool musical pieces has always been my vision. It's stronger than ever" laconically drops this lanky, hyper-focused madman.
Those who have always appreciated awesome and hallucinated rockers (Screaming Lord Sutch, Screamin' Jay Hawkins, Alice Cooper…) will be well served and will thus enjoy a legendary and very rare Arthur Brown in our regions. Our 3rd GARF could not have ended better than with these touches of madness and musicality.